March 6, 2019
The 2019-2020 reassignment process is complete. For information about the 2020-2021 process, please visit this page.
The annual housing reassignment process is an opportunity for students to request new accommodations for the next academic year. The reassignment application for the 2019-2020 academic year was open from March 18 – March 29, 2019.
Please note that the reassignment process is only for single students. If you are interested in family housing, learn more about the family housing application process.
We strive to meet as many students' preferences as possible, but due to our limited housing inventory and popularity of certain properties, we cannot guarantee specific building, apartment type, and roommate requests. Placement is based on seniority, resident status, and as needed, lotteries.
Watch a video overview of the process: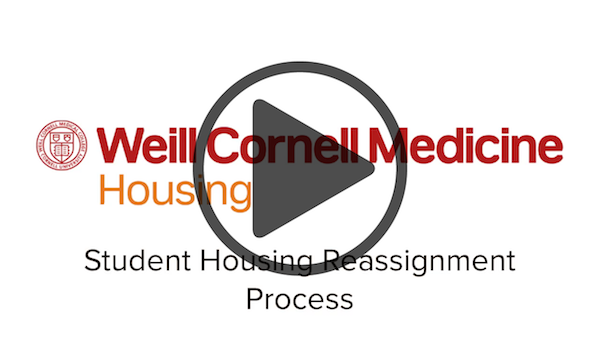 Housing Reassignment Eligibility
All MD, PhD, and MD/PhD students can participate in the housing reassignment process. If you don't want to move, you don't need to submit an application or take any action. Please note:
If you are a 1st year student in Olin Hall, we strongly encourage you to submit an application. We need to move all 1st year students in Olin to new buildings to make way for summer programs and the incoming class, and if you do not list specific preferences, we will place you based on availability.
If you are a 2nd year student or above in another WCM or MSK building, please only submit an application if you would like to move.
If you live off campus and would like to move into WCM housing, you are welcome to submit an application as part of the reassignment process. Note that if you submitted a housing application earlier in the year, you do not need to resubmit as part of the reassignment process.
2019-2020 Student Housing Options
All MD students and year 1-4 MD-PhD students: Olin Hall, Lasdon House, Stahl, and The House at Cornell Tech
All PhD students and year 5+ MD-PhD students: Olin Hall, Lasdon House, Stahl, The House at Cornell Tech, and Memorial Sloan Kettering residences
You can view details about these buildings and new rates for the 2019-2020 academic year on our Student Housing Options page.
Reassignment Points & Lottery System
In order to conduct assignments for specific buildings and unit types, each student will be assigned points based on their resident status and current year in their program. (Watch a video overview of this process.) To ensure we can vacate all 1st year students from Olin Hall, and because of the popularity of MSK residences among PhD students, WCM building residents receive higher point values than MSK building residents and off-campus students.
Point structure:
All off-campus students  |  MSK residents, 1st year: 1 point 
WCM residents, 1st year  |  MSK residents 2nd year: 2 points 
WCM residents, 2nd year  |  MSK residents 3rd year+: 3 points 
WCM residents, 3rd year+: 4 points 
If you want to move into a shared apartment with a roommate group, your group's point value will be the average of the group members' points. For example, a group that consists of two students with four points and one student with one point will have a roommate group point value of three points.
Once all students/roommate groups are assigned point values, Housing orders applicants/roommate groups accordingly. Assignments will be made to those with the highest points first. If demand exceeds inventory for certain buildings or unit types, we will hold lotteries for those assignments in the order listed below. The order is based on historical popularity and to plan which units will be vacant in Lasdon: 
Stahl
MSK (PhD students only)
The House at Cornell Tech
Lasdon
Reassignment Process Timeline
March: Submit an application. Students who wish to request new accommodations submit a reassignment application online.
April: Housing reviews housing preferences. Housing assigns points to applicants and conducts lotteries as needed. 
May: Receive your assignment. If we're able to place you in a new assignment, will notify you of your new building and unit number in early May. (Note: All 1st year students in Olin will receive new assignments.)
June – Early August: Move to your new assignment. As rooms are vacated by graduating or moving students, you'll be notified when your new assignment is ready for you to move in.
To ensure we can move students to their new assignments over the summer, we cannot accommodate room change or new roommate requests until the reassignment process concludes in August.
Policy Updates for 2019-2020
Gender-Inclusive Housing: Gender-inclusive housing allows students to live with whomever they choose, regardless of biological sex, gender, or gender identity. Previously, we only offered gender-inclusive housing in two-share apartments. Based on student feedback, effective immediately, we will now also offer gender-inclusive housing in

three-share

apartments. Students who would like to move into a two-share or three-share can list their roommate preferences on their housing reassignment application.


Lasdon House Large Bedroom Rates: All shared Lasdon House apartments consist of one large bedroom and one or two smaller bedrooms. There is no current rate differentiation between the large and small bedrooms, and this has resulted in a variety of issues. It's created a rate inequity within Lasdon apartments, caused housing assignment and reassignment issues, and led to students brokering their own arrangements to gain access to the larger room.

In order to address these issues, we will begin differentiating the rates for large and small bedrooms in Lasdon. We will implement a rate premium for the large bedroom in increments over the next four years, reaching a final rate difference of $100/month between the large and small bedrooms on July 1, 2022. An initial $25/month premium will go into effect this July. (Note that the rate premium changes will be separate from the annual housing rate changes, also scheduled for July.)
Questions?
Please contact us: